Nightmare Classics: Carmilla

VHS
Vital statistics
Directed by
Gabrielle Beaumont
Produced by
Shelley Duvall
Written by
Screenplay by
Jonathan Furst
Story by
Sheridan Le Fanu
Based on
http://en.wikipedia.org/wiki/Carmilla
Starring
Meg Tilly
Ione Skye
Roy Dotrice
Armelia McQueen
Roddy McDowall
Music
Rick Conrad
Release date(s)
September 10, 1989
Running time
51 min
Country
United States
Budget
$1 million
Gross revenue
Carmilla is an adaptation of the classic Gothic vampire novel by Joseph Sheridan Le Fanu which was created for Shelley Duvall's short-lived Showtime TV series Nightmare Classics. It's notable for Roddy McDowall's performance of a character similar to those which the fictional Peter Vincent portrayed.
Marie (Ione Skye) is an unhappy girl living with her overbearing father (Roy Dotrice) in the deep South during the Civil War era. One night they happen upon an overturned carriage and discover a sole survivor, an exotic woman named Carmilla (Meg Tilly). Marie and Carmilla quickly form a bond, but the family's voodoo-practicing maid (Armelia McQueen) is perplexed by Carmilla, who becomes the prime suspect when she mysteriously turns up dead. Eccentric Inspector Amos (Roddy McDowall) begins his investigation and concludes that the maid was murdered by a vampire, whom he believes to be Carmilla.
Production
Edit
Following her success with Faerie Tale Theatre and Tall Tales and Legends, Shelley Duvall attempted to branch out to the teen and adult market with Nightmare Classics, which was planned as a six-episode series for the Showtime television network[1] though only four episodes were ultimately produced.[2] Since they were aiming for a younger audience, the lesbian subtext that was so prevalent in other variations of the story (most notably Hammer's The Vampire Lovers) was toned down. Additionally, the setting was switched from Austria to America and it includes various other changes and embellishments.
Meg Tilly, who had then-recently been divorced and had two children to support, recalled that she took the role for the paycheck.[3] Productions were budgeted at just under a million dollars per episode,[4] and actors were paid above scale, which was $414 a day.[1] The episode was produced quickly, with little time for the cast to form bonds.[3] When asked about the film decades later for a Fangoria feature, Tilly claimed she had never been asked to discuss it nor had she seen the finished product.[3]
After its initial broadcast on Showtime, Carmilla was issued as a stand-alone VHS tape and doubled-packaged with the Nightmare Classics episode The Turn of the Screw on laserdisc. A photo of a double-packaged DVD appears on several websites, though it's entirely possible that it's a bootleg.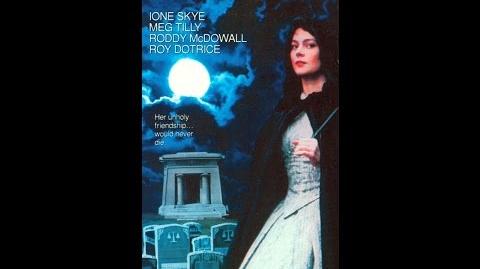 References
Edit
External Links
Edit
Ad blocker interference detected!
Wikia is a free-to-use site that makes money from advertising. We have a modified experience for viewers using ad blockers

Wikia is not accessible if you've made further modifications. Remove the custom ad blocker rule(s) and the page will load as expected.