"Is this 99 Oak?"
~Cheryl to Charley~
Cheryl Lane was a prostitute who was murdered by Jerry Dandrige.
Biography
Edit
Charley Brewster spotted the hooker while walking home from school. He was delighted to see such a bodacious woman in a lewd outfit strutting down his street. After observing her buttocks he took note that she was entering the mysterious Dandrige residence.
The following day, Charley sees a news report with her photo which reveals that the "known prostitute" had been found dead.
Background Information and Notes
Edit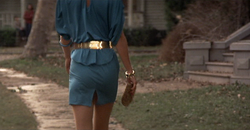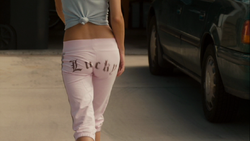 Cheryl Lane is the only minor character from Fright Night to appear in the video game adaptation.
A character called Doris is used in a similar way in the remake. The character seems to be a combination of the hooker and teenage victim from the original. Charley is shown staring at her glutes while walking home early in the film. Later she is seen wearing a turquoise dress while falling victim to Jerry Dandrige. Doris also has blonde hair and is described as a "stripper" by Amy Peterson.
Video game
Edit
References
Edit
External links
Edit
Ad blocker interference detected!
Wikia is a free-to-use site that makes money from advertising. We have a modified experience for viewers using ad blockers

Wikia is not accessible if you've made further modifications. Remove the custom ad blocker rule(s) and the page will load as expected.