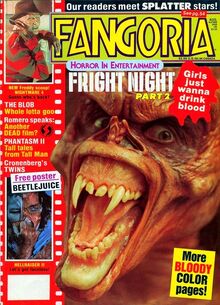 Fangoria Magazine is a publication which chronicles the makings of horror, sci-fi and fantasy films. The journal extensively covered the making of the original Fright Night, with dwindling coverage of each of the subsequent films.
Articles
Edit
*June 1985 (Issue #45) -
Tom Holland on Fright Night
by Abbie Bernstein, pp 20-24
Although Fangoria Magazine continues to be published, in recent years much of their coverage has been relegated to the web, including a scant amount of information about Fright Night 2: New Blood.
Ad blocker interference detected!
Wikia is a free-to-use site that makes money from advertising. We have a modified experience for viewers using ad blockers

Wikia is not accessible if you've made further modifications. Remove the custom ad blocker rule(s) and the page will load as expected.