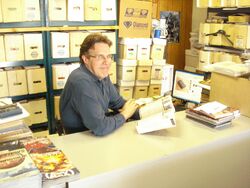 John Stangeland
is a free-lance comic book artist for Marvel, DC, Image, Comico, Malibu and
NOW Comics
. For many years he owned and operated Atlas Comics, a retail comic book store in Norridge, Illinois, but he was forced to close the shop in 2013 when the landlord decided to raise the rent.
Ad blocker interference detected!
Wikia is a free-to-use site that makes money from advertising. We have a modified experience for viewers using ad blockers

Wikia is not accessible if you've made further modifications. Remove the custom ad blocker rule(s) and the page will load as expected.